No doubt you know that high-quality curing actually helps concrete last longer.
…
You're probably very conscious of high-pressure timeframes and stringent budgets.
…
In many ways, that sums up the tension that's going on in this space: cost and time limitations tend to have a negative effect on concrete quality and durability. No doubt, in the field or the precast yard, your team is working hard to uphold high standards – it's a constant challenge.
…
Curing is Critical
"The strength of concrete is affected by a number of factors, one of which is the length of time for which it is kept moist, ie cured. … Inadequate or insufficient curing is one of the main factors contributing to weak, powdery surfaces with low abrasion resistance."
Cement Concrete and Aggregates Australia. (2006). CURING of Concrete.
…
"Curing can make all the difference between having good concrete at the end of the placing operation which becomes good concrete in the structure in service on the one hand and, on the other, having good concrete at the end of the placing operation ruined by the lack of a small effort; It is worth repeating that the benefits of curing apply mainly to the exposed outer layer of concrete and it is this that offers protection to the reinforcement."
Neville, A. M. (1989). Why Usual Specifications Do Not Produce Durable Concrete. Bahrain Society of Engineers.
…
Uneven Hydration
As mentioned in the sources referred to above, hydration is key. Methods of maintaining the water content include retaining the formwork; curing blankets or hessian; curing compounds; or applying further water by spray or ponding.
…
These methods tend to either be labour intensive or delay construction schedules.
…
Is there a better method?
…
Discolouration
The aesthetics of the structure can be spoiled by discolouration induced during curing, either by uneven application of curing compound or by water gathering unevenly under curing blankets.
…
Can this be avoided?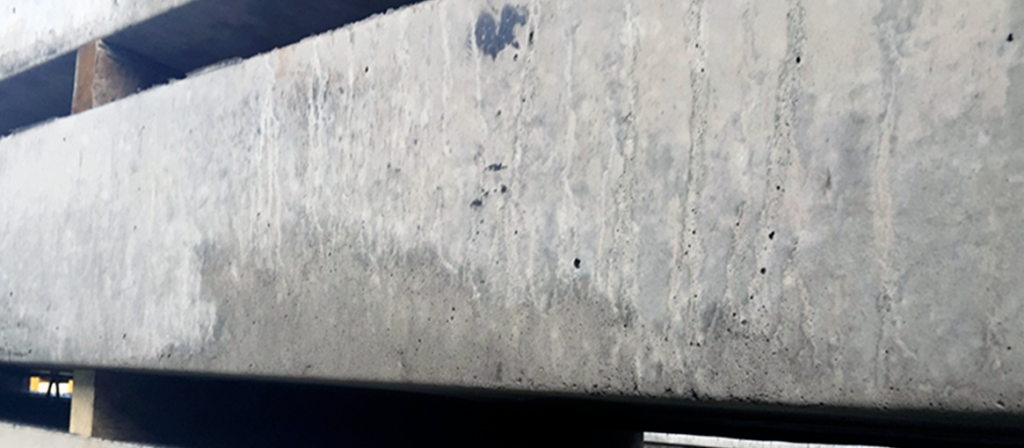 Source: https://blog.ecoratio.com/how-to-prevent-discolouration
…
D.E.F.
This is a tricky one. Delayed ettringite formation (DEF) can be induced much later in the structure's life, by excessive curing temperatures – typically while steam curing, but also by large-mass precast elements being cured within their formwork. This effectively builds a failure mechanism into the concrete, which displays itself sometime later, in a similar manner to ASR.
…
What can be done?
…
Multi-Pronged Solution!
You need to know about AQURON 1000. This advanced hydrogel treatment, applied at the time of cure, has been proven to enhance curing equal or superior to 14 days' water curing.
Hydrates evenly by deeply penetrating into the concrete and immobilising the internal moisture.
Avoids all discolouration issues – does not affect the appearance of the concrete.
Arrests the delayed internal 'curing' that leads to later DEF, by immobilising the moisture-borne elements that drive the reaction.
Cost effective, time-saving, and dramatically reduces disruption to the construction process.
This multi-benefit treatment will be a very beneficial step forward in your precast process.
…
And in passing … Low Cover
This is not strictly a curing issue, but insufficient cover can come to light early in the life of the structure, so we'd like to mention this in passing. Another hydrogel treatment, AQURON 2000, can actually increase the impermeability of the concrete to the point where the effective cover is doubled – potentially rescuing otherwise non-conforming elements.
…
Talk to us today about your precast curing issues. We're here, as always, to help with solutions-focused systems.